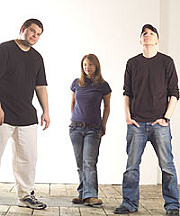 Show #18
The Far-Gone Accumulator/September 13, 2006
Playlist:
electronics - la danza de zorba
bill mcneill - harry henig
perez prado & shorty rogers - voodoo suite
les aristocrates - pourquoi
billy rae - the story of susi
eddie noack - delores
offenbach - pourquoi - j't'icitte
link wray - the outlaw
bill mcneill - john diefenbaker
duane eddy - the marauder
spike jones & his city slickers - william tell overture
les index - presque fou
cal veale - paralysed
angela dorman - pretty susan
horace heller - ed's place
troy hess - please don't go topless mother
porcelain forehead - problem festival
link wray - zip code
offenbach - promenade sur mars
rascals - ein schiff wird kommon
grandpa joe - drunken driver
freddy chetybrok - pub with no beer
sunn O))) - sin nanna
jean-guy moreau - pussy cat
gestics - invasion
Man? Or Asto-man - Classified
The Rabble - Put it Down to Magic
Jody Reynolds - Shot Down
G.W. Manning - Case 14
Huevos Rancheros - Crowchild Trail
Jody Reynolds - Endless Sleep
Offenbach - Quebec Rock
Mauf - House of Love
Offenbach - Quoi Quoi
Mauf - Freedom
Spike Jones & His City Slickers - Cocktails for Two
The Sonics - Have Love Will Travel
This show ended up with some nice transitions I hadn't expected & a bunch of music from Crypt's "God-Less America". Sobering stuff. Speaking of, The latest Sunn O))) offering freaks the hell out of me, hope they're at work on "Black Two". New music from Austria's MAUF, an acappella beat-boxing group. you can check them out here
http://profile.myspace.com/index.cfm?fuseaction=user.viewprofile&friendid=63161137
Far-Gone Accumulator can be heard Wednesdays from 1-3am CST on 91.3fm CJTR, or
on the web
.